Diary of events on active service. page 2
Lance Corporal Percival Fox 1895-1976, of the 53rd Royal Warwick regiment, Birmingham Battalion, was my grandfather. Born, the son of an ironmonger, in Langley a part of Brimingham known as the "Black Country" Percy joined up with his younger brother Jess to fight in the great war, he was 20 years old at the time. This is his war Diary, illustrated with photographs he took while on active duty on the front, firing line. These photographs have never been published before.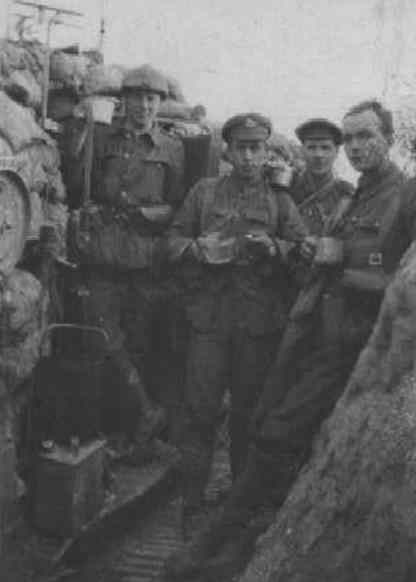 The front line Arras France 1916. Their faces say it all, how many of them came home? Arculaus killed in action 1916. J. Fox, wounded. 1917. S. Shields killed 1918
26th December 1915. Boxing Day was just as cheerful. Raining. Between the hours of 11am, and 1 pm. Fritz gives us our first Bombardment and I don't feel at all safe and had (Words crossed out)+ I had wind up awful. Still I got over it and gained a little by my experience. We were relieved at night by the Cheshires. We were at the Dump By 4:30 relived. Stayed there until 12 waiting for Herbert We were wet to the skin by the time he arrived, and started back over the fields slipping and sliding all over the place. We got to the Citadel at last and found the ---- stuck in the mud up to the mules bellies. -----ropes were put on the -----and we had to drag them out, we got them out onto the bridge when one of the mules fell through. This was a tedious job, we however, managed to get him out, and get back to Bray without any further trouble. Here we found part of the X-mas mail waiting for us. I had two parcels and did give him (Herbert?) something to go on with.
.
27th December 1915 The next few days we spent in inspections. Cleaning up. The mud has got everywhere. I cut my great coat down.----had swapped coats with Mason, the old ----
.
30th December 1915 Went into the trenches again at m-----,but found they were hardly any better from what they were when we left them.
.
31st December 1915. Day was very Quiet, but at night we were expecting an attack as Fritz opened up with rapid and heavy fire. We stood to our guns. Was rushed up into the firing line, And our artillery opened out, nothing of worth happened ,and then hours later we returned to our dugout
.
1st January 1916. Few shells over ,no damage
.
2nd January 1916. Heavy shelling of our line. No damage . Sargent Groves killed by sniper. Relieved
.
3rd January 1916. Bray shelled, and old woman's house smashed. Old woman escaped lucky. Had our first chip supper at ------
.
4h & 5th January 1916 cleaning ammo
.
6th January 1916 in the trenches again, few shells
.
7 Th. January 1915 Fritz, trenches bombarded
.
8th January 1916 Sitting in old mine gallery under Fritz line writing letters
.
9th January 1916 Mamety shelled
.
10 th January 1916 Fritz starts shelling ,but our ---- give him a ------
.
11th January 1916 At Bray cleaning up as usual
.
14 th January 1916. Sent to trenches again, they are now----. German snipers very busy
.
15th January 1916. Most of the day is spent walking --- bombardment
.
16 th January 1916 We blew up a mine followed by one hours bombardment. All hell let loose
.
17th January 1916. Germans blow up mine under Middlesex at --- relieved
.
21st January 1916 Bray shelled, no damage
.
22nd January 1916. Came into trenches again. Fritz busy with his----,no damage
.
23rd January 1916 Hilton dugout hit 3 killed 7 wounded
.
24 th January 1916 Fritz keeps sending his old oil cans at us. Soldiers are given 2 footballs for cash, Sausages for supper
.
25th January Nothing doing. RBS charge mine. Very cold. Frozen
.
26th January We blow up 3 "Camps of Low" To blow an his saps dead(?). One German shouts for help, this affair known as the night the "Fritz-Kers-Ji--" went up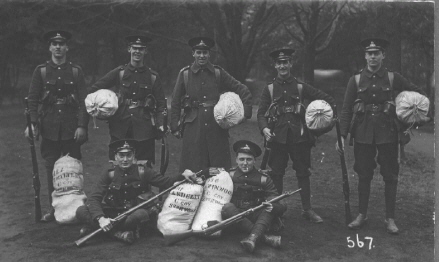 Moseley 1914. P Fox 2nd left
27th January 1916 At Bray Jess gets first field punishment
.
28th January 1916. Germans bombarded Cappy & Sussan, but are held back, we are standing to, in case of an attack, which is expected on the French
.
29th January 1916. Germans made an attack at Cappy, but are held back. We are still standing too.
.
30th January 1916 Church parade in morning-Relieve Cheshires in the trenches at night. Very Quiet, only for Snipers who are busy.
.
31st January1916. Snipers are very troublesome. Sgt Cutts kills one. Shot him through his sniper plate. We blow up a mine opposite the middlenie front.
.
---


MAIL
Paul Johnson 27th September 2014