A bit about Neil ...
---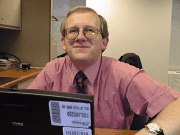 Well, seeing as you asked, my name is Neil Winton and I live near Felixstowe in the UK with my wife Libby and our two children, Rebecca and Benjamin.
I grew up in the beautiful island of Jersey. And after my time at school I was fortunate enough to spend my University days in another wonderful place, at Christ's College, Cambridge. There I studied Natural Sciences (Physics) but it eventually dawned on me that making a living as a Physicist was going to be hard and so I chose the soft(ware) option and ended up being a Software Engineer with absolutely no formal training at all ... and I haven't been discovered yet ...
Work Stuff
Currently I work for a major consulting company where I'm a manager (although for most of my working life I've been trying to avoid that title :-) looking after a team specializing in "Middleware" for distributed systems. More specifically I have spent a good few years of my life working with DCE (the "Distributed Computing Environment" originally developed by the Open Software Foundation which is now part of The Open Group) and more recently with "Encina" from IBM/Transarc and the "Entrust" security product.
Prior to my current job I worked for BT (British Telecom) for about 12 years. It was fun (mostly) and I learned a lot ... but I still can't tell you why the phone is more likely to ring when you've just got in the bath ...
A couple of years ago I even co-authored a book on distributed computing called "Energize the Network: Distributed Computing Explained" (the title seemed like a good idea at the time) published by Addison Wesley Longman. It has never been a best-seller but if you want to help a struggling author :-), you can get it from amazon.com and other fine bookstores.
I could go on at great length about Middleware, the merits of three-tier architectures, distributed processing, message queuing, CORBA and the like but I'm not at work now and if you really want to know about all that kind of thing please feel free to e-mail me or, even better, buy The Book :-)
Quasi-Work Stuff
Of course, even if I'm officially a "manager" I'm a techie at heart and there are a large number of things that interest me that are not strictly "in the line of duty." I'm a great fan of the Tcl and Perl scripting languages. You can find out more about them and some of the things I've done with them elsewhere on this site (by following the preceding links).
The Real World
I've already mentioned my family — but when I'm not at home with them or at work you'll probably find me doing something related to the Salvation Army. I'm the Songster Leader (choir-master) at the Felixstowe Corps. Some of the other stuff on this site (particularly the sketches) is also related to this in one way or another.
One of these days I'll take up some kind of sport (that doesn't involve good hand-eye co-ordination), begin playing the piano, or learn Japanese. But until then, there's not much more to say and I'm sure you've heard more than enough about me by now — I'm surprised you got this far!
---
Last updated 1999/10/23