Sand Martin artificial breeding sites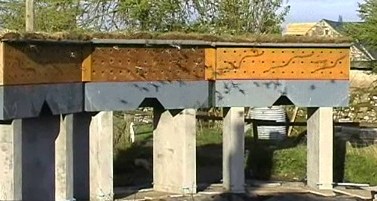 .Why provide them? Because there are many habitats suitable for foraging Sand Martins throughout Britain that are unoccupied by them as such suitable habitats lack a breeding site, or there are suitable habitats that may be occupied by Sand Martins but such habitats have poor breeding sites.
Two examples of these are shown below.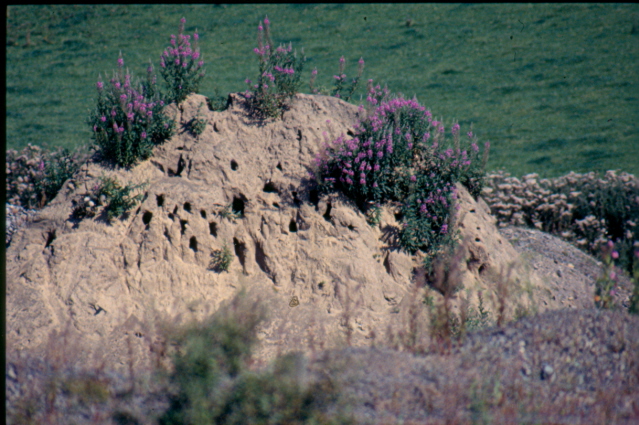 The image to the right shows Sand Martin nest holes easily entered by ground predators and also easily damaged by rain.
The image below shows a site that is flooded after heavy rain and nest holes that are easily accessed by ground predators.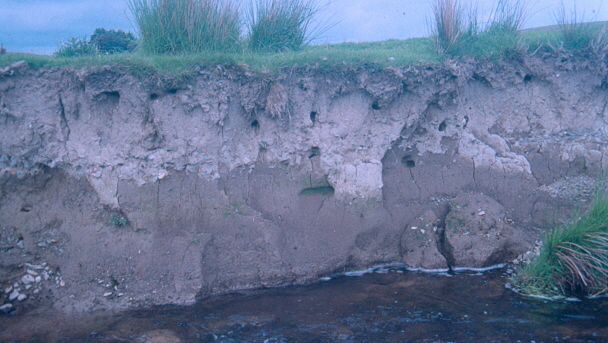 Why are they needed throughout Britain? Because two to three days of constant rain in a particular area whilst young are being fed will normally lead to the loss of broods in that area other than those with the most experienced adults.
How much do they cost? The Sand Martin Trust's adviser has now tested every type of site that allows Sand Martins to perform their full breeding behaviour and has settled on two basic designs. One for annual manual maintenance and one for use in industrial environments. Deliberately, he has made our show site boxes with plywood to prove that a successful site need not be expensive, especially as the boxes are intended for areas where Sand Martins have not bred previously. However, the placing of these boxes must make them proof against ground predators and this is where your main expense will arise. Note that The Sand Martin Trust does not offer advice on construction or offer estimates of costs. The former because it is outside our expertise and the latter because they depend on the area and builder.
In order to present our information, as it relates to Sand Martin artificial breeding sites, our Adviser has written a manual with that title. This Manual is given freely depending on the charitable status of the recipient, or other matters; for a minimum charitable donation to cover its cost and p&p, also depending on the charitable status of the recipient, or other matters, or for a minimum charitable donation, to cover a package of up to 30 emails and the Manual from those who would be using its services for commercial enterprise. The Sand Martin Trust will decide the level of minimum donation required, if any, on receipt of a request for the Manual.
Why will The Sand Martin Trust not just publish its information on the web? Because the scope of our research means that our boxes are very effective once found by the Sand Martins, and to help the Sand Martin population, rather than hindering it, this means that we must be assured of such matters as security of tenure and of who will carry out the necessary annual maintenance, before releasing our information, also, as registered charities in Scotland now have to show the difference that they are making annually, The Sand Martin Trust needs to use requests for information as an indicator of the need for our services.
The Contents of the 100 page Manual are shown here for you to decide whether it will be of use to you.
1. Introduction
3. Terms used by the Author
4. Why the need for artificial breeding sites for Sand Martins?
The Author considered the following aspects of his Study:
16. The feeding area
20. The aspect of the site
21. Faces without water at their base
24. Faces over water
26. Position of nest holes on/in a face used for breeding
28. Heights of faces chosen
30. Perpendicularity of face
30. Lengthwise characteristics of face
32. Faces with a top covering of vegetation
33. Nest hole length
33. Overhead wires
34. Ground predators
39. Aerial predators
49. Nest parasites
50. Recognizing Sand Martin breeding sites
53. The testing and evolvement of the advised artificial breeding sites for Sand Martins
53. Types of sites not tested (those that don't allow Sand Martins to carry our their full breeding behaviour or are not ground predator proof)
56. Sand Martin artificial breeding sites for annual manual maintenance
67. Sand Martin artificial breeding sites for industrial maintenance
71. After care of Sand Martin artificial breeding sites for annual manual maintenance
73. The fumigant to use
74. After care of industrial sites using mechanical maintenance
75. The Sand Martins have started using the site, now what?
82. How can I assess the number of birds using a site if I only make one or two visits?
84. You know how many birds are using your site, in fact you're full up. What next?
84. Juvenile Sand Martins
88. Nest cameras
92. How does the Author rate a Sand Martin breeding site? (Note that The Sand Martin Trust does not normally carry out site visits)
93. For quarry owners and other contractors
97. References
99. Acknowledgements
100.The Sand Martin Trust
Updates to the Manual
Nest parasites
As this Manual is now held by every Wildlife Trust in the United Kingdom as well as some other 0rganizations wanting, or having, to provide Sand Martin artificial breeding sites, this space is provided for us, and them to relate how they have overcome problems relating to their particular sites. Information from the person in charge of the site must state the Organization involved and the situation of the site and be emailed to The Sand Martin Trust.
The first and major problem for most involved in these sites must be accessing suitable effective fumigants. Those mentioned in the Manual are very effective but the manufacturer will no longer ship to Europe. Ticks and fleas are the main problem for the Sand Martins and as the insecticide can only be used to fumigate the holes before the Sand Martins arrive, or after they have left, it has to be effective. PelGar International manufacture an insecticide that may be suitable but we have no information from users. As for many things, prices for their products can vary depending on the vendor and you might find a Farmers' Co-operative worth a call.
Nest pipes
Piping of the recommended diameter of 127 mm or 5" may not be found on sale now. Of the commonly available sizes of 100 mm or 4", and 150 mm or 6", we would advise the larger diameter, but we have not tested this size. We do know that Sand Martins will use the 100 mm or 4" diameter piping but it does constrain their breeding activities to some extent. If the piping is of the drainage type, then the 150 mm or 6" diameter can be reduced by cutting along the pipe, overlapping it and holding it to the reduced diameter with wire, but this would undoubtedly be an onerous task.